Lazy summer blogging
Been over 6 weeks since I last posted, and I have several things lined up waiting to be blamed. Let's start with the weather, shall we? It's been hot and bright. It hurts the eyes to look at the computer monitor. And oh yeah while you're at it, I'm knitting myself this huge cobweb weight lace bedspread with beads and color-work.
Next there's the lack of a camera. Posts without pictures are very hard to write 'cuz then you're under pressure to make the words count. Witty don't happen when witty want.
And finally, I've been busy. With what? Heh! How does
that
matter?
Believe it or not, I've been knitting more than usual lately. Sonata top and the green shawl are half finished. I've ordered some yarn for
Tubey
which should get here next week. I've taken a deep breath and decide to push forward towards the finish line of both the brown felted bag and
Mesilla
. See, the updates are much quicker when there aren't any pictures.
Oh and the best news ever! I'm going to join a weaving class at the
LYS
in Oct. I love the look of woven fabric for shawls and blankets. Clothing, I still prefer knitting. They have these gorgeous wool-silk house yarns that I will use. Both the classes and yarn are expensive and so I'm waiting till Oct. Can't hardly wait, baby!
Yesterday was Mr.P's birthday and while it wasn't grand, I think he had a nice day. His co-workers got him this huge ass plate of cookies and I got him an
electric shaver
and a couple of bars of handmade soap. To go with the soap I knitted him a
heart washcloth
(my first ever) with a little loop. Sista got him a set of beginner guitar classes that he seemed real excited about. Wish I could have planned a surprise or two and something exciting but being a work day and all... plus, the past few months have been busy and I wasn't sure I was up to planning something big. Friends brought some beer and we sat talking for a while before going to bed.
OK another fun thing that's happening is this yarn swap I signed up for on
KH
. It's a surprise theme swap, meaning everyone lists a few themes they want their package to follow and their secret swap pal picks one and goes to town with it. That's the theory anyway. In reality, you pick what you think your pal will like. And try not to go broke. So far I've picked out this really cool silk yarn, a gorgeous hank of sock yarn and special ordered some linen. What d'ya think?
And since I'm positively depressed to be posting without any pictures, I'll leave you with these.
Sprague lake, Rocky Mountains
Sun shining through the clouds in a valley, Rocky Mountains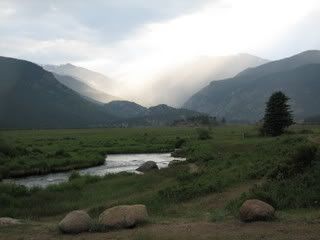 Our family from L-R : Sista, my mom, my dad, yours truly, and Mr. P
Buh~bye, now.