In sickness and in health, yarn we shall buy
I'm back from a weeklong visit to New Jersey to see my sis and ate at some fab places, scored some terrific yarn and even fell ill to boot. Everytime I visit NYC I develop a fondness for the city that goes beyond the awe it inspires at first glance. I love all the shops, eateries and people on the streets. Sure keeps you from ever getting bored. A life-long shunner of overused public transportation, I even like the subway. I don't know if I could live there, but for a visit it totally fascinates me!
We managed a one day visit to Boston too and man, I'm glad I bought a new coat and knit the hat. It was windy and bitterly cold but so much fun as we walked Harvard square and along the river Charles alongside the MIT campus. The hat I made from Elann Alpaca fit my sis way better than it fit me so I gave it to her. Here she is in Boston Commons wearing it: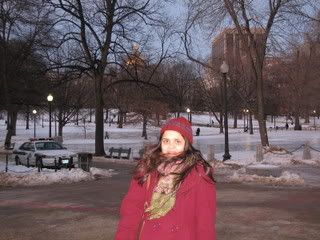 And in downtown Boston we found
Windsor Button
! I say "we", but my sister's not a knitter just a willing accomplice and in this case, a generous one. We entered the yarn shop minutes before they closed to escape the freezing wind, and wow! The shop is quite big with a really nice selection of yarn and notions (and buttons of course). We only spent enough time to get these -
RY Cashsoft DK in a pale lilac to make
Odessa
. Yet to buy the beads.
A hank of the most soft mmmmMalabrigo in a very beautiful colorway called Dark Earth. I'm using this for the first time and it is definitely one of my favorites. Right now, it's on my needles becoming a ribbed scarf.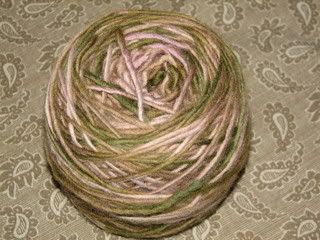 And for the finale..... SEA SILK. Yep, finally gave in and bought this hank in this gorgeous colorway (don't know what its called). It will, of course, become a lace scarf but not just yet. Maybe later this summer once I find a worthy lace pattern. And it smells like silk.
And in Manhattan, I checked out
The Point NYC
in the Village. It's a cute little shop with a cafe and some tables occupying most of the floorspace. They've arranged the yarn on the walls in little baskets and hanging display rods. The yarn selection was not awesome, but I did see some of the new Artyarns Cashemere. Beautiful, but pricey! So I bought this one skein of Lorna's Laces Shepherd Sport in Harvest and enjoyed their cafe.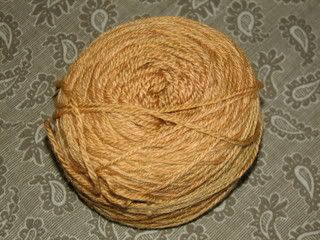 I sure have been neglecting the food part of this blog, but here are a couple interesting places we visited. A place in Journal Square called Sri Ganesh that serves up the most authentic and delicious South Indian food. I think we ate enough for 3 and got take out too!
And an upscale champagne bar in Manhattan called
Flute
. A very nice lounge for a pre-dinner drink or two.
And of course, we stuffed ourselves silly in the British style pub called Elephant and Castle attached to our hotel in downtown Boston.
Mr.P seems to have managed remarkably well in my absence, but he was the airport early to pick me up so I'm thinking maybe he did miss me a little, eh? :)
I'm still recovering from whatever bug bit me, so am slow catching up on OTN projects!